Raven's Happy Ending
Early in 2011, a Safe Haven foster mom received a call indicating that there were three, small, female labs (two chocolate and one black) at the Clinton County Animal Shelter scheduled to be put to sleep the following day. Knowing we had one dog foster who specializes in fostering labs, the shelter reached out to us. Unfortunately, at that particular time, that foster already had multiple dogs in her care with no room for more. We did a quick check around our foster network and figured out a way to shoehorn in these three girls.
It was obvious from the start that these girls had never been around people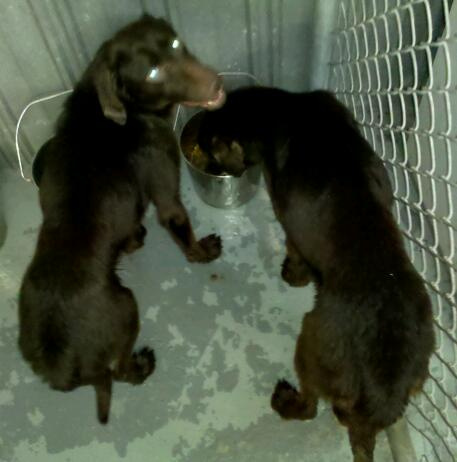 except when their meager food was delivered. They had apparently been caged their entire lives and poorly fed. They were terrified of people and would not go potty outside, but rather would hurry back inside to do their entire duty in their crates. They had lived that way and it was all they knew. The girls, soon named Daisy, Raven, and Coco, were put into three separate foster homes, but the story was pretty much the same in each case: no socialization at all, fear of being approached, fear of being touched, and only seeking the security of their crate. As the days went by with our foster families constantly working to gain trust, but making very little progress, we realized that it would take a long time to find homes for these poor, sad girls. Eventually, one by one, the girls were taken for a day at Petsmart in Grand Rapids to help with their socialization.
And then came the day Raven went to Petsmart and met Rachel and Ruth who told us:
"After having to put our 13 year old dog to sleep, we waited a few weeks and decided our home was empty without a dog. We looked on the internet at shelter sites and found several dogs. We then read about Raven and how she had been badly treated in her first year of life. We went to Pet Smart to meet her. We saw her huddled in the back of her cage; looking rather frightened with all the people and noise. She did look at us and it was love at first sight!!! Raven was not the dog you would notice if you were there to adopt an outgoing, personable dog.
"Raven needed a quiet home, lots of patience, and people willing to let her take life at her pace. We were able to adopt her that day and we were thrilled to bring her to her forever home. For weeks, she would eat, drink, let us put on her leash to take her outside, but really did not want us to touch her. She cowered when we raised our hands to turn on a light, reach for anything, and she was afraid of the normal noises of daily life. After a few more weeks, we could get nearer to her if we sat on the floor. She would cautiously come near us and we could pet her. We talked to her all the time about how we were so glad she was our dog and how good she was. She loved her many visits to the dog park and played well with other dogs. She also got used to new people and saw them treating dogs well.
"This was our excuse to buy a couch and that made such a difference. We told her to jump up and she figured that it was Okay. Now she snuggles between us on the couch and loves to be hugged and petted. Our friends have helped by coming to visit and this has forced Raven to adjust to new people. She has traveled to Tennessee with us: handled an elevator, a hotel, rest stops, and new people quite well for a dog who was never petted as a puppy and teased and tormented by her first adopters.
"We have gently put new experiences in Raven's life and she still is timid and afraid of most new situations. However, she does adapt more quickly now. She is sweet, follows us, and loves to run, fetch her ball, and toys. The highlight of Raven's bravery was sitting on Santa's lap at Tractor Supply for a picture. We had no idea how she would react when we took her. She saw other dogs there and figured if they could sit with him, so could she! Frankly, we were shocked when she just sat with him and looked into the camera!
"We feel that showing Raven how a dog should be loved is one of the most rewarding experiences we have had. She certainly deserved a loving family, and Safe Haven gave her that chance. We are so grateful that she could become part of our family."